The L.C. Miller Mobile Induction Heating Station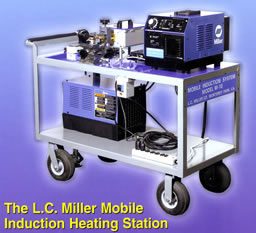 The L.C. Miller M-10 mobile induction heating station was designed to perform a multitude of induction heating operations for production and research applications. Typical uses include silver brazing of carbide cutting tools, transmission coaxial cables, metal solenoid coil bobbins, etc.
There are many applications where the induction method is replacing time-consuming hand-held torches and furnaces for soldering or brazing operations. Thanks to patented technology, improved production and quality can now be realized with the M-10 mobile induction system.
It is difficult to name an industry in which the induction heating process is not employed. A mini-list of popular industrial uses is listed below.
The system above is equipped with four, 8 inch diameter, 4 ply pneumatic wheels which allows easy movement from one location to another. A convenient foot operated lock is provided to mechanically stabilize the system during operation.
The system above consists of the following components:
DYNAFLUX X* power supply
Induction heating transformer
Quick-change coil device
COILMATE*
Hermetically sealed timer
Non-contact infra-red detector with laser sight
Digital temperature readout
Pendant controller which displays voltage, current, power and frequency
Self-contained water cooler
A convenient steel drawer, 12" wide x 20" deep x 5" high for storing instruments and accessories
MOBILE CART: The heavy duty welded steel cart is 48: long and 37.25" high. It weighs 129 lbs. and shelves have 19" clearance. It has 8" x 3" pneumatic wheels with floor lock. Tire pressure should be 45 pounds.
WATER COOLER: The water cooler is mounted on the bottom shelf. It has a 3 gallon molded polyethylene water tank and an efficient forced air-cooled heat exchanger. The filler spout and filter are mounted on the front panel for easy access. The coolant is deionized water. The cooling capacity is 14,000 BTU/hr. The unit has a 1/4 hp motor which is thermally protected. The water pressure is preset at 55 PSI.
POWER REQUIREMENTS: The power supply operates on either 240 or 480 vac., 60 Hz, 3 phase. The water pump, infrared detector and controls employ 120 vac. This power is provided through an outlet strip mounted on the bottom shelf. It is fused and has an on-off switch and indicator light.
MINI-LIST OF INDUSTRIAL APPLICATIONS:
Annealing metals
Brazing carbide tools
Soldering coaxial cables and connectors
Epoxy curing
Heat shrinking
Golf clubs
Golf balls
Hermetic sealing
Hardening metals
Medical tools
Veterinary tools
Water conditioners
SPECIAL REQUIREMENTS: The M-10 mobile system described here can be modified to your specific requirements. For instance, in many cases the infrared detector may not be required as the operation can be performed with the timer only. If you can describe your particular requirements, we will suggest the most economical package to fit your needs.
Mechanical Specifications for Power Supply: 19.52" long, 11.5" wide, 11.75" high
Weight: 65 pounds
Dimensions of Induction Transformer: 11.375" long, 8.7" wide, 4.25" high
Weight: 19 pounds
Electrical Specifications for Power Supply:
10KW duty cycle limited
5KW continuous
7KW 25 seconds
9KW 16 seconds
10KW 12 seconds
Power Input - 3 phase, 50-60 Hz 240 vac - 44 amps 480 vac - 22 amps
Output Frequency - 10 - 15 KHz
Required Reflective Inductance: 5-30 micro-henries
Induction Transformer:
210 amps (rms) max.
350 volts (rms) max.
*US Patents and trademarks - L.C. Miller Company