Modular Fixture Systems
For Work Coils used on Induction Generators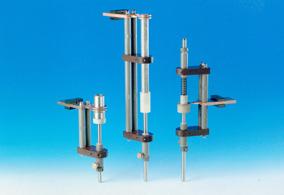 Click on Picture
L.C. Miller Company Brazing Fixtures
The L.C. Miller Company is the pioneer in the development and commercial use of the Modular induction brazing fixtures.
The modular design permits the fixture height and coil position to be easily adjusted with a simple open-end wrench. The entire fixture mounts into the Miller Re-Coil®, A quick change device which attaches directly to an induction heater. Typically, each assembly to be brazed is assigned to it's own modular fixture.
Fixtures can be designed in any size and configuration and for either manual or automated applications. Prospective customers are invited to send us the components and drawings of the parts to be brazed together with the production requirements. We will respond quickly with our recommendations.