Dyna-Flux® V Induction Heat System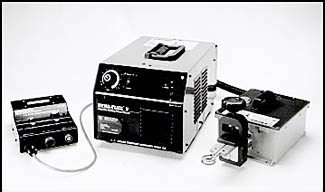 Dyna-Flux® V is a compact, water-cooled, 4-1 matching transformer that permits the use of small diameter low inductance coils. This model is ideally suited for carbide tool brazing, heat treating and soldering.
It is difficult to name an industry in which the induction heating process is not employed. Listed below are many examples of where induction heating is used to great advantage. Examine the list of products and processes and you will probably see a process or part that you presently manufacture not employing the induction heating method. If so, call us at (800) 899-3611 and our engineers will be pleased to discuss the advantages of the Dyna-Flux system.
Many processes that employ hand torches or ovens can now be eliminated by the induction process with improved production and repeatability. The induction process is environmentally safe and compatible with manual, automatic and robotic systems.
Annealing - metals prior to forming
Aluminum - joint brazing on fittings
Audio speakers
Batteries
Bellows - silver brazing, soft soldering
Cap sealing
Carbide cutting tools - brazing, annealing
Crystal growing, silicon etc.
Cathode activation, lasers
Ceramic - to - metal seals
Conduit assemblies
Coaxial cables - end connectors
Resoldering
Drying of coatings - wire and metal
Electrical contacts - brazing
Electron tube manufacture - getters, degassing
Epoxy curling
Epoxy removal
Eye glasses
Fasteners
Golf clubs - curing of epoxy
Gear teeth hardening
Glass sealing operations
Glass - metal sealing
Glass ampules
Heat shrinking tools
Heat exchangers
Hammer heads, hardening, annealing
High intensity light sources
Incandescent lamp manufacturing
Jewelry - melting, gold, silver, casting
Knives, hardening teeth, annealing Lasers, activating cathodes, getters
Lamp manufacturing
Levitation of metals
Locks
Melting
Mufflers - selective annealing for motorcycles, trucks, etc.
Medical tools, soft soldering, brazing brass and stainless
Pressure fittings
Pin sealing
Quartz sealing for light sources
Rivets - selective hardening of teeth, annealing
Sputtering
Tantalum - brazing in argon
Television tube manufacturing - outgassing, getters
Ultraviolet lamp manufacturing
Vacuum tube manufacturing - outgassing, getters
Veterinary tools - feeders
Water conditioners - soldering, brazing
Wrenches - hardening, annealing, X-ray tube manufacturing, outgassing, getters
Xenon light sources
Zirconium - outgassing in vacuum
Zone refining of metals and semiconductors