LC Miller Re-Coil Terminal Block Assembly 2601-A (Heavy Duty)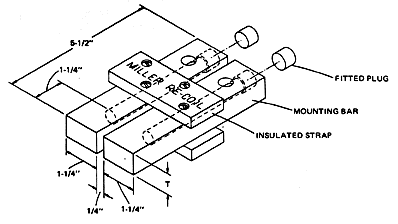 A factor in the popular acceptance of the Miller Re-Coil is the effortless interchangeability of induction coils, made possible by the versatility of the coil mounting bars and their adaptability to any size or shape of work coil. In this respect, the mounting bars in Re-Coil Terminal Block Assembly 2601-A are recommended where coil or fixture design requires special adaptation.

The solid-copper mounting bars are provided with cooling water passages to within 1- 1/4 inches of coil mounting end. Considerable latitude is allowed for fixture attachment; simply drill and tap for mounting screws where required, using care to avoid cooling water passages. To attach coil, first locate the desired positions of coil ends on the bars. From these points, machine passages of suitable size to connect with the pre-machined cooling water passages. Align with coil ends inserted in passage, then silver braze or soft solder to bar. The fitted plugs should now be silver brazed or soft soldered in rear opening of cooling water passage and the entire unit pressure tested for leaks and flow.

Mounting bars can he ordered special to either longer or shorter lengths can be special ordered.

Terminal Block Assembly 2601-A will fit the Series 600 Re-Coil.

| | |
| --- | --- |
| Catalog Number | "T" Dimension |
| 2601-A-6 | 3/4" |
| 2601-A-8 | 1" |
| 2601-A-10 | 1-1/4" |

*TRADE MARK PAT. NO. 2,866,880
The L. C. Miller Company specializes in design, repair and manufacture of custom coils and fixtures. Engineering assistance is available, without obligation, upon request.