LC Miller Re-Coil Terminal Block Assembly 2603-A (Heavy Duty)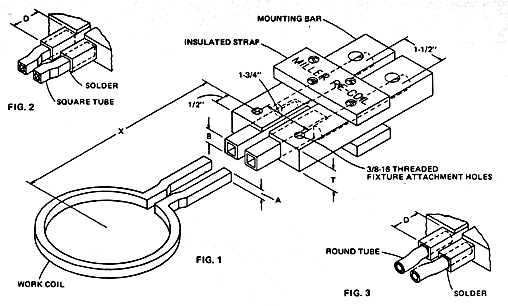 Adaptability to any coil configuration is the paramount feature of this Heavy Duty Re-Coil Terminal Block Assembly. Mounting bars may be reversed for horizontal axial mounting, and cooling water channels accommodate round or square tubing.

To install, locate coil in relation to fixture and coil mounting bars (See Fig. 1). Insert coil ends into tubing opening a minimum distance of 3/8" (See Fig. 2). Distance "X" from center of work coil to center of fixture attachment holes is determined by depth of insertion of work coil ends. When properly located, soft solder, clean and pressure test for leaks and flow before use.

Terminal Block Assembly 2603-A will fit the Series 600 Re-Coil.
Catalog
Number

"A Dimension
(Coil Tubing O.D.)

"B" Dim.

"D" Dim.

"T" Dim.

2603-A-6-500

3/8"

1/2"

1"

3/4"
*TRADE MARK PAT. NO. 2,866,880
NOTES:
1. When ordering, please specify 2603-A-6-500 3/8" 1/2" 1" size by catalog number.

2. Work coil not included in price.

3. Length "D" can be made up special to your requirements. Write or call L. C. Miller Company for price.
The L. C. Miller Company specializes in design, repair and manufacture of custom coils and fixtures. Engineering assistance is available without obligation, upon request.