LC Miller Re-Coil Terminal Block Assembly 5138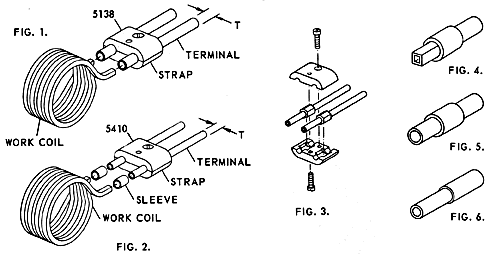 The Model No. 5138 Re-Coil Terminal Plug Assembly is for use with Miller water cooled Coaxial Extension Cables, Models R and G. If may also be used in the standard Miller Re-Coil by means of an adapter No. 5315-A-375 for vertical mounting, or adapter No. 5041-A-375 for horizontal mounting.

By the use of an adapter, the same work coils used in a Coaxial Cable may be directly mounted to the Re-Coil in either a horizontal or vertical position.

The Model No. 5138 using 3/8" terminal tubes, is a more rugged terminal and is interchangeable with other fixtures and Coaxial Cables. The 5138 is supplied as standard equipment with Model ''R'' Cables.

To install a work coil to a Terminal Plug, remove strap and insert ends of round or square work coil tubing into short ends of the terminal tube, or into adapter sleeve if required, and solder in place. Make certain that the hexagonal portion of the terminal tube is oriented to the insulating strap. Clean coil and pressure test for leaks and flow before use. NEVER substitute metal screws for the nylon screws in the strap, as metal screws will heat.
*TRADE NAME
| | |
| --- | --- |
| Catalog Number | "T" DIM. |
| 5138 | .375 |
| 5410 | .250 |
Note: Work coil sleeves not included in price.
The L. C. Miller Company specializes in design, repair and manufacture of custom coils and fixtures. Engineering assistance is available, without obligation, upon request.